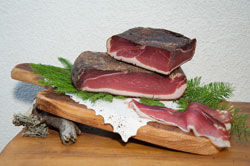 Imagine a traditional shop that treasures all the typical flavors of this land. An inviting corner showcasing delicacies which really challenge your palate and appetite. A place where you will find the essence of the taste and characteristic aromas of Trentino and in particular from the Valsugana, an endless list of culinary ticket to a high quality gastronomical journey.
It is when you stroll through Levico's main pedestrian street that this sensation become reality and a colorful and very attractive delicatessen display does not go unnoticed. This is what happens at "da Gigi": a celebration of local eno-gastronomical delights which flood the store as well as the Via Regia.
You will find all the products that bear the signature of the old local culinary tradition such as an extensive assortment of Speck and Salami produced with locally sourced meat or wild game. The best typical cheeses obtained from the milk supplied by the mountain farms in the area.
Furthermore, you will find the mushrooms, polenta, assortments of jams, honey, pastas and flours, wines, Grappa, fruit juices, sweets...